YURI GAGARIN'S GOLDEN JUBILEE
repeat: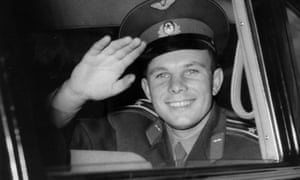 YURI GAGARIN'S GOLDEN JUBILEE
Today will mark 50 years of Russian cosmonaut Yuri Gagarin's foray into space and the only Indian to have traveled to space, Mr.Rakesh Sharma, said that continuing exploration of space will bring further wonders to mankind in the years to come and hoped that man would colonize the celestial neighbours like the moon and Mars in future.
Cosmonaut Rakesh Sharma currently lives Coonoor,near OOty said that the space journey of Yuri Gagarin in April 12, 1961, had inculcated the much-needed confidence among mankind that reaching space and returning safely to earth was not an impossible task.
He added that with sophisticated and advancing technologies in the field of space research, opportunities were ample to explore space further to look for resources.
Asserting that space research in India had come of age and ISRO was capable of sending another cosmonaut into space and even take up manned  mission to the moon,he said that ISRO had so far focused on application technologies  to take the benefits of space research to the common man but after the Chandrayan mission, it can look forward further.
Mr.Sharma also added that space tourism would become a common phenomenon in the years to come but more funds were needed to realize that goal. Future generations would show great interest in space journeys and research.
Stating that he would be ready to visit space if he got the chance again, the cosmonaut hoped that future generations would show great interest and enthusiasm in space journeys and research.
Sharma added that the non-sustainable development in earth will certainly make mankind look towards colonizing the other planets.
April 12, 2011 Deccan Chronicle Report.
Dedicated by:kavignar Thanigai.